Need opinions
---
In a couple months I'm going down to MPD to get some stuff done. I originally planned on getting egr delete with waste gate arp head studs both batmowheels for hi and low sides of turbo and a downpipe since I don't have one yet. I do tow from march to October almost every weekend about 10k lbs. I run the 210 now to be on safe side but would like to go higher after I do these mods. Am I going the right direction or should I consider MPD's tranny kit instead of other mods I wanna do? What do you guys think? Thanks!!!


Sent from my Autoguide iPad app
---
Cory Duffie
2012 F-350 CC 6.7L
H&S
Incubus
AFE
Flo Pro
Powerstroke.org Rookie
Join Date: Jan 2012
Posts: 17
Mentioned: 0 Post(s)
Tagged: 0 Thread(s)
Quoted: 0 Post(s)
Thanks: 0
Thanked 0 Times in 0 Posts
Feedback Score: 0 reviews
I'm new to this but it almost makes sense to establish the major core parts before laying the power mods too it, meaning transmission first. Then you have the base to work with.
Compression Ignition Addict
True. I am leaning towards tranny upgrade to because it's a ways away from me and dont feel like making many trips.


Sent from my Autoguide iPad app
---
Cory Duffie
2012 F-350 CC 6.7L
H&S
Incubus
AFE
Flo Pro
Compression Ignition Addict
What kind of shape is your tranny in now? If it is getting weak I would do a tranny because later down the line it could go out on you with out funds available. A good tranny can go a long ways. I would still do an EGR delete at the same time though.
---
2015 F350 Ruby Red Platinum, SRW CCLB, Color matched Ranchhands, rigids.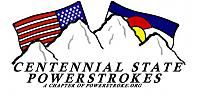 SOLD:
Compression Ignition Addict
I havent had any problems with the tranny besides the occasanal rev slam. I used to run the 250 all the time but i dropped down to 210 just to be safe. So maybe i should just do turbo egr delete downpipe?
---
Cory Duffie
2012 F-350 CC 6.7L
H&S
Incubus
AFE
Flo Pro