Banned
can someone take a measurement for me?
---
hey guys so Im putting in an 08 dash in my truck and I need a measurement taken. I need the airbag cover measured. just the spot where it says superduty. Im doing the dash but I dont know fi the bag was deployed or what but it's not included.....and I want to put an 11" monitor there so I need a measurement....let me know

please and thanks in advance.

Chad
Compression Ignition Addict
Join Date: Jul 2009
Location: San Diego
Posts: 158
Thanks: 0
Thanked 0 Times in 0 Posts
Mentioned: 0 Post(s)
Quoted: 0 Post(s)
Feedback Score: 0 reviews
Its kinda hard to see but its a touch over 17 and 1/2 damn near 17 5/8 inches.
---
2009 F250 CC/LB 4x4 6.4 Sterling Grey
AFE Stage II PG-7, Spartan with 310 and tcm, dpf/doc and magnaflow exhaust, 6k hids fogs and low/highs, Custom Rize 11 inch lift with fox coilvers and atlas springs, custom traction bar and BMF SOTAs with 38 inch toyos
Banned
that is awesome, I appreciate it. I actually had somone give me a superduty panel( so no 11" screen for me) when I get home to do my dash conversion in March( really want to do something this complex on my own )....I do have 2 other questions though...
1. is it possible to have someone put MY STOCK AIRBAG in the 08 DASH? and use the superduty dash panel?
2.can someone tell me what other switches I need and where I can get them? Im looking on pss.com and it just seems too cheap for 28.00 for a 4x4 switch for our trucks....especially an 08 model.
here's the pic it's the 2 lower openings, bottom left and bottom right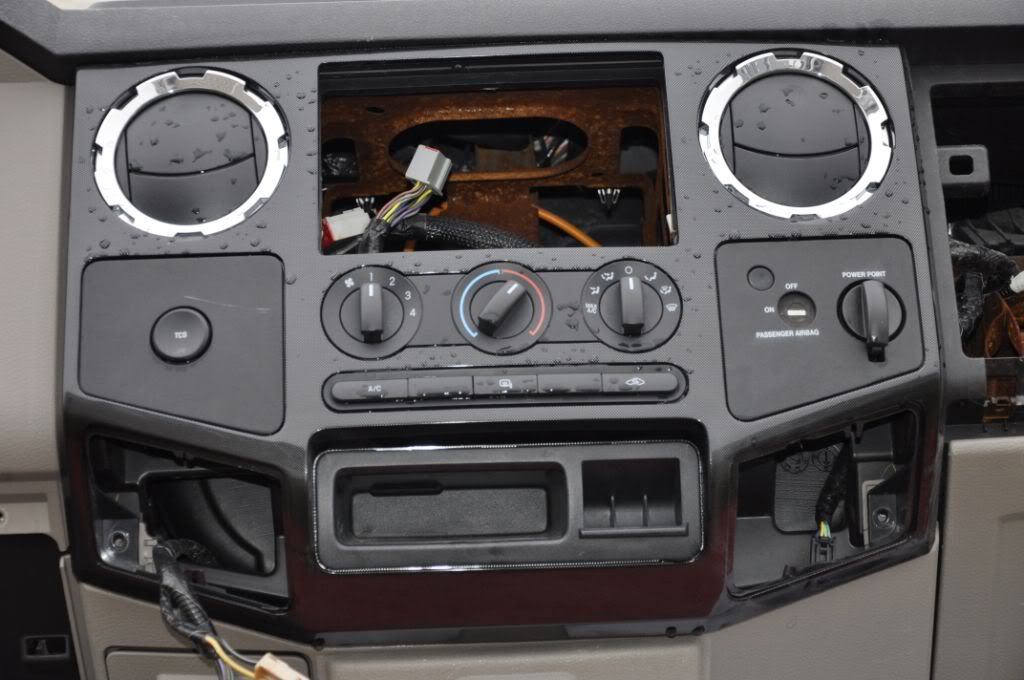 also anyone know of how hard redoing the wiring for some of my switches is going to be? Im hoping not TOO god aweful hard, and I have some ideas for getting some of the switches to mount in the locations they need to be in.....
PLEASE HELP, I've already got all the parts lined up to do my 08 interior swap. THIS WILL HAPPEN!!!!
Chad
Compression Ignition Addict
another meet and greet project? lol
---
Konnor
2011 Cruze
R.I.P. Will Iott
Banned
lol they just keep....happening....I just picked up my tailgate and rear bumper for 150 cash and my rear bumper....tailgate w/ step was shot

Chad
Compression Ignition Addict
damn! you keep finding the deals dont ya lol. your trucks gonna be an 08 surprise by the time ur done aint it lol. i can see it now. you pulling into the meet and greet with a 30ft enclosed traler full of projects
---
Konnor
2011 Cruze
R.I.P. Will Iott
Banned
nah the suspension and dash will be done before....the tailgate and my new hood are getting painted( I might be changing up my hood idea....found a superclean regular cowl hood) that the guy wants what I was asking for my hood( and his is already red )....so no need to paint, can put that money toward something else....you goin into chicago anytime soon bud? might have a favor for ya...possibly....also you heard anything more on my stuff
?
Chad