What to do now?
---
I condemned a HPFP due to brass debris found at the fuel cooler valve and at every feed tube. I replaced and cleaned everything...

REPLACED
HPFP
HFCM
BOTH RAILS
8 INJECTORS
FUEL COOLER
FILTERS
FEED LINES

CLEANED
TANK
SENDING UNIT
RETURN and FEED LINES

I bled the system which took forever. Finally got it going. Within minutes after clearing adaptive tables. all my SFTs were bad. from -5 to +11.

I took a sample at the fuel cooler valve and sure enough, that same brass debris... What did I miss???
---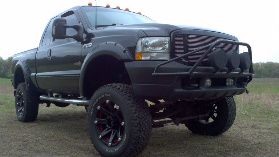 NWI Coal Rollers Assc.
Compression Ignition Addict
Join Date: Jun 2012
Location: Front Royal,VA
Posts: 183
Mentioned: 0 Post(s)
Tagged: 0 Thread(s)
Quoted: 0 Post(s)
Thanks: 0
Thanked 0 Times in 0 Posts
Feedback Score: 0 reviews
any updates
---
F250 CCSB FX4
Spartan dashdaq
,deleted,RCX 4-link 6" Lift, 325/60R20 Goodyear Duratracs, 20x10 Gear wheels, 15% tint,RBP step bars.