Thanks Raul@Stealth-Automotive!!!
---
Just placed my order for the smoked LED Recon lights with Raul....I'll post pics up as soon as I get them in....thanks bro!!!
Slacker
Join Date: Dec 2006
Location: Surprise, Arizona
Posts: 18,620
Thanks: 16
Thanked 225 Times in 196 Posts
Mentioned: 22 Post(s)
Quoted: 166 Post(s)
Feedback Score: 4 reviews
Congrats, Julian. I can't wait to see them once they're installed...
---
Shawn Carlson
EvilEye@powerstroke.org
Proud Navy Vet
2005 F250, CCSB, 6.0 PSD, FX4 (The Sweet Unit is white)
2008 F350, CCLB, 6.4 PSD (Brad-the wife's truck is black)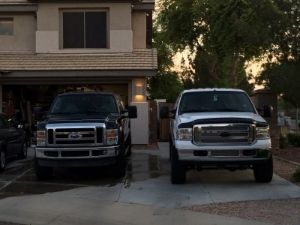 Engine Mods:
Fluidampr
CCV Reroute (Reinstated)
4" MBRP Exhaust
MTW Stage 1 Turbo
Bulletproof 53V FICM
BulletProof EGR Cooler
BulletProof Water Pump
Riff Raff Intercooler Boots
Gogo Diesel Direct Drive Solenoid
BulletProof All-Aluminum Radiator
BulletProof All-Aluminum Intercooler
BulletProof Oil Cooler System w/ Bypass Filter
SCT w/ Custom Tunes (TSD, DJ's, Innovative, Gearhead, QuickTricks)
Exterior Mods:
Bilstein 5100 Shocks
Icon Adjustable Trac Bar
Firestone RideRite Air Bags
BDS Dual Steering Stabilizer
Aluminum Finned Differential Cover
Reese 16k Manual Slider 5th Wheel Hitch
Icon 2.5" Leveling Kit w/ F-350 rear blocks
20" BMF Novakanes wrapped in 33" Nitto Terra Grapplers
Compression Ignition Addict
Join Date: May 2007
Location: Tulsa, OK
Posts: 4,230
Thanks: 0
Thanked 1 Time in 1 Post
Mentioned: 0 Post(s)
Quoted: 0 Post(s)
Feedback Score: 0 reviews
maybe after the new year i can get some Recon goodies!
---
im still alive and kickin...find me on FB..."StrokerX1"
SOLD my truck, another Diesel within 2011
NOTE: if your on OK and need some PSD work done, i know a dealer tech who does the work....PM me!
Compression Ignition Addict
NP bud..... ill get these out to ya asap