Question about data logging with the SCT X3
---
I was wanting to monitor my EOT & ECT with my X3. But only see the coolant temp as one of the perimeters. Which one is the oil temp or is it not available??
Thanks for the help!
---
2006 F250 CC Short Bed King Ranch 4x4 (109,000 miles)
4" Turbo Back w/ 6" Tip
SCT x3 w/ Custom Tunes From DJ's/Innovative
03 turbo
Eclipse Navigation/DVD/CD/MP3 w/ Rear Camera
Rear DVD/MP3/CD Entertainment System
Escort Passport SR7 Built In Radar Detection System
K & N Cold Air Intake w/ S&B Replacement Filter
Roll-N-Lock Retractable Bed Cover
Nitto Trail Grappler LT295/70R18
***SOLD 10/31/11***

New Truck:
2011 Ford F-150 Limited 6.2L Super Crew
Compression Ignition Addict
Join Date: Oct 2006
Location: Gods Country/Home
Posts: 1,713
Thanks: 22
Thanked 13 Times in 13 Posts
Mentioned: 0 Post(s)
Quoted: 5 Post(s)
Feedback Score: 1 reviews
I think I read on another forum that EOT had been very recently added to the SCT "lineup" but you might want to visit their forum or give them a call to get the correct information.
---
I Bleed Razorback Red

Ford Makes It, International Shakes It, Casserly Fuels It, KC Turbo Spools It, SCT Tunes It, and Trucks Unlimited keeps her Rockin the Road
Slacker
Join Date: Dec 2006
Location: Surprise, Arizona
Posts: 18,630
Thanks: 16
Thanked 225 Times in 196 Posts
Mentioned: 23 Post(s)
Quoted: 166 Post(s)
Feedback Score: 4 reviews
Yes, they have just recently added it. I'm not sure which version of software will let you read that PID, so Tim is right you should contact them.
---
Shawn Carlson
EvilEye@powerstroke.org
Proud Navy Vet
2005 F250, CCSB, 6.0 PSD, FX4 (The Sweet Unit is white)
2008 F350, CCLB, 6.4 PSD (Brad-the wife's truck is black)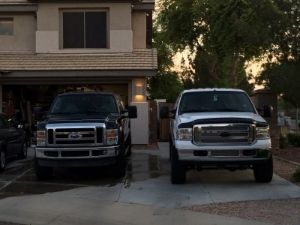 Engine Mods:
Fluidampr
CCV Reroute (Reinstated)
4" MBRP Exhaust
MTW Stage 1 Turbo
Bulletproof 53V FICM
BulletProof EGR Cooler
BulletProof Water Pump
Riff Raff Intercooler Boots
Gogo Diesel Direct Drive Solenoid
BulletProof All-Aluminum Radiator
BulletProof All-Aluminum Intercooler
BulletProof Oil Cooler System w/ Bypass Filter
SCT w/ Custom Tunes (TSD, DJ's, Innovative, Gearhead, QuickTricks)
Exterior Mods:
Bilstein 5100 Shocks
Icon Adjustable Trac Bar
Firestone RideRite Air Bags
BDS Dual Steering Stabilizer
Aluminum Finned Differential Cover
Reese 16k Manual Slider 5th Wheel Hitch
Icon 2.5" Leveling Kit w/ F-350 rear blocks
20" BMF Novakanes wrapped in 33" Nitto Terra Grapplers