Changed my oil cooler...now on to my stuttering...
---
So I got my oil cooler changed and finished took me 4 days on and off to finish the proj. Here is a pic of my homemade flush kit:
sump pump, garden hose, pvc fittings to fit to heater core, old beer cooler, dawn dish soap, hot water (boil on the stove). I put dawn dish detergent in the cooler and also put the sump pump in. then filled with hot water and turned on the pump. the dawn took the oil out and the oil floated in the bubble on top of the water as the sump pump took cleaner water from the bottom. worked great, could just turn it on and leave it for a bit and then i can come back and skim off the oil. also did it in reverse... flushing the other way.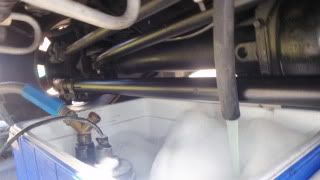 now my prob now is the stuttering when i first start her in the am. been looking on the site, how do i know if its my injectors or my module? use to get better as she warmed up. now it seems like shes taking longer to clear out the stuttering.
thanks
thanks.
Compression Ignition Addict
Join Date: Mar 2011
Location: wichita ks
Posts: 971
Thanks: 0
Thanked 7 Times in 4 Posts
Mentioned: 0 Post(s)
Quoted: 0 Post(s)
Feedback Score: 0 reviews
Q: HOW DO I TEST FICM VOLTAGE?



A:***FICM voltage tests should be performed with the engine oil COLD (ie, close to ambient air temperature). This will force the FICM into it's inductive heating strategy, which will give you a worse case scenario/voltage reading. If the engine has been run (within 5-6 hours of this test), then the warm engine oil may not give you an accurate FICM voltage.

On all 2003-2007 Ford 6.0L Power Stroke diesel engines you will find the FICM bolted to the drivers side valve cover...you may need to unbolt the coolant reservoir from the 'cowl' so that you can get your arms/hands back there to work on the FICM.You don't need to drain the coolant...just unbolt the bracket that hold the coolant reservoir, and gently move it as far out of your way as possible. Be careful, as there is a plastic coolant connector that can be cracked if the coolant jug is handled forcefully.

On the top of the FICM, you will see a diamond/oval shaped metal plate...remove the two screws from that plate (Torx#20).

under that plate you will either see 7 "lugs"...or 4 "lugs" (depending on the year of the truck)...

if you have a "7 lug FICM"...you want to put one lead from your multimeter onto the upper left "lug"...and the other multimeter probe to ground (bare spot on the cylinder head, alternator bracket, negative battery terminal, etc).If you have a "4 lug FICM"...you will want to check the lug on the right (closest to the drivers side fender).

be careful NOT to lean the probe on the FICM lug...over onto the aluminum case...you might let the smoke out, LOL...

Have someone turn the key to the 'on' position (don't crank it yet)...and see what your FICM voltage is. It should be >46volts.

Next have someone crank the engine...and see what the FICM voltage is while cranking...again..should be >46volts.

Go ahead and start the engine...and see what the voltage is while idling.

If the FICM voltage drops below 46 volts...then it is "bad"... SWAMPSDIESEL
__________________