3.73 to 4.10??
---
So, i know i have to swap out the front end as well, but i'm curious as to who's done this and how much quicker the truck has felt after its done. I'm thinking of doing it however i'm concerned about the decrease in fuel mileage that i may get? I will be going from my current 33's to 35's sometime in the near future as well.

is it a good idea or bad? And why?
---
-Aaron

'14 Mustang - DD
'07 F-250 PowerStroke - 5" MBRP Straight Pipe, Edge Insight, Eric Tuned SCT, HID's, 2.5" Newton Lift w/ 4" rear block and Icon Caster Sleeves, Bilstein 5100's, 18" XD Monster's w/35" Toyo M/T.
'96 Talon TSi(AWD conversion by
Roberts Imports
)
'98 Dodge Neon SOHC Coupé - FOR SALE
Slacker
Join Date: Dec 2006
Location: Surprise, Arizona
Posts: 18,422
Thanks: 16
Thanked 211 Times in 183 Posts
Mentioned: 17 Post(s)
Quoted: 121 Post(s)
Feedback Score: 4 reviews
Actually, it may offset your increase in wheel size and so your fuel mileage might actually stay the same. You are probably slightly lugging the engine now with your 33's when you are just cruising.
---
Shawn Carlson
EvilEye@powerstroke.org
Proud Navy Vet
2005 F250, CCSB, 6.0 PSD, FX4 (The Sweet Unit is white)
2008 F350, CCLB, 6.4 PSD (Brad-the wife's truck is black)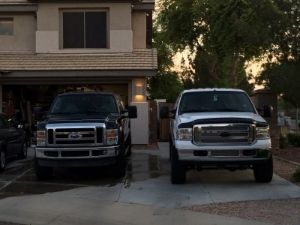 Engine Mods:
Fluidampr
CCV Reroute (Reinstated)
4" MBRP Exhaust
MTW Stage 1 Turbo
Bulletproof 53V FICM
BulletProof EGR Cooler
BulletProof Water Pump
Riff Raff Intercooler Boots
Gogo Diesel Direct Drive Solenoid
BulletProof All-Aluminum Radiator
BulletProof All-Aluminum Intercooler
BulletProof Oil Cooler System w/ Bypass Filter
SCT w/ Custom Tunes (TSD, DJ's, Innovative, Gearhead, QuickTricks)
Exterior Mods:
Bilstein 5100 Shocks
Icon Adjustable Trac Bar
Firestone RideRite Air Bags
BDS Dual Steering Stabilizer
Aluminum Finned Differential Cover
Reese 16k Manual Slider 5th Wheel Hitch
Icon 2.5" Leveling Kit w/ F-350 rear blocks
20" BMF Novakanes wrapped in 33" Nitto Terra Grapplers
Compression Ignition Addict
Join Date: Jan 2007
Location: Charlotte, NC
Posts: 212
Thanks: 0
Thanked 0 Times in 0 Posts
Mentioned: 0 Post(s)
Quoted: 0 Post(s)
Feedback Score: 0 reviews
lower RPM = Better fuel economy
So, here is a calculator to use it is kinda backwards for your info but it will work and it is simple enough. Just remember the best economy you can get in these engines is close to 2000 rpm so use that and your tire size and the speed you drive.... if you use 80mph then at 70 it will be less rpm, obviously. Hope this helps.
Differential Gear Ratio Calculator
---
Tom Buck
1999 7.3 CC /DRW/4x4/Six-Speed:Sold
2005 6.0L CC/DRW/FX4/Lariat