» Buyers Guide
» Network Links
Go fund me for Bill Cohron
Sep 16, 2015 - 9:46 AM - by HVAC SuperTech
bill, the owner of PHP and also a site sponsor has lost his entire home and his pets to a horrible house fire. bill is one of these guys who will give you the shirt off his back if it would help you out. he is a leader in the Diesel community as far as his Tuning goes and his knowledge on the power stroke engine. I think as a site, powerstroke.org, we should come together and donate some money to Bill and his family to help them in this horrible time to help them get back on their feet. a site has been set up and I will post the link below. thank you to everyone!

Bill Cohrons House Fire Recovery by Gregg Kunkle - GoFundMe
150 Replies | 4,280 Views
Sept 2015 ROTM winner
Oct 01, 2015 - 10:11 AM - by Heavy_GD
Congrats to 99turbo4x4 for winning the Sept 2015 ROTM contest!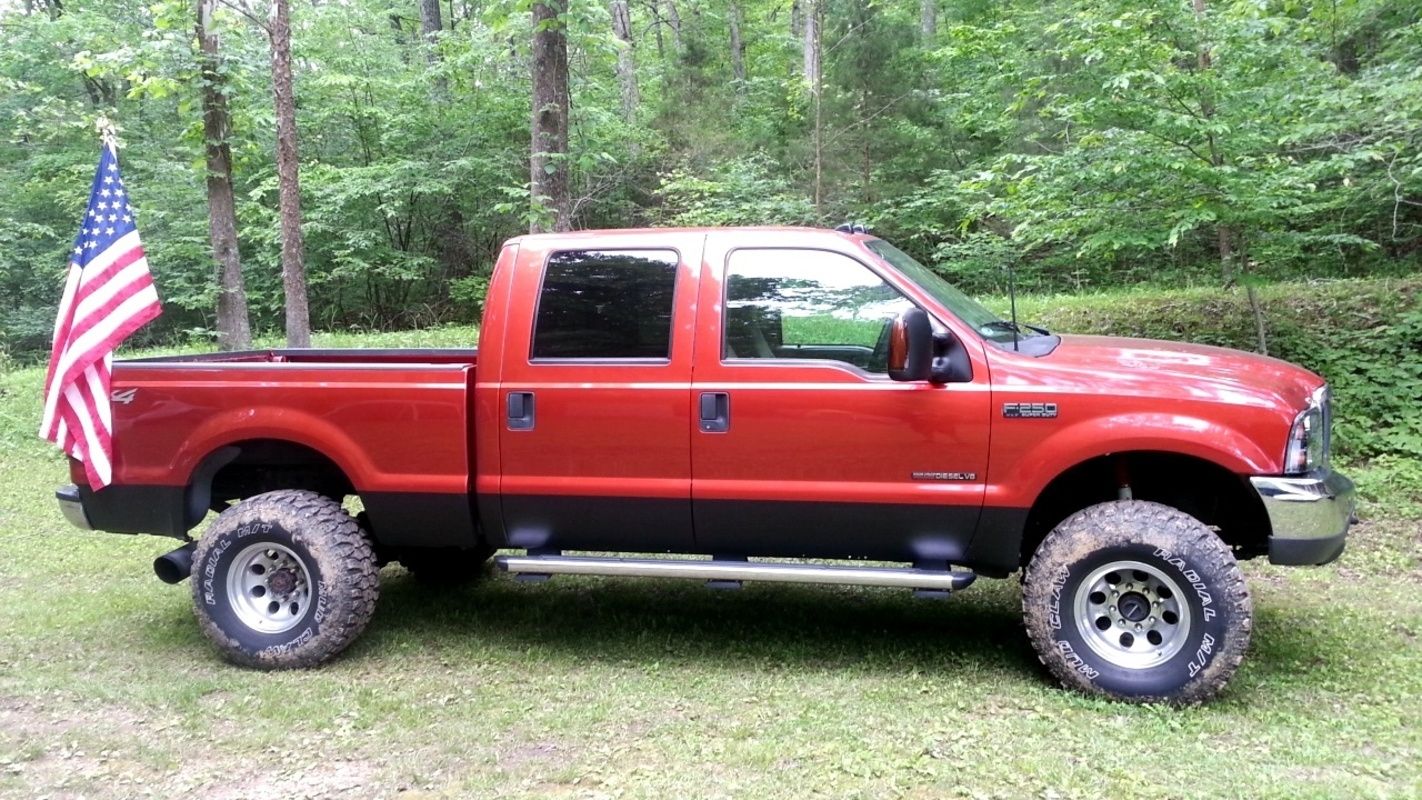 5 Replies | 510 Views
2017 Ford F-Series Super Duty Uses Aluminum to Shed 350 LBS
Sep 24, 2015 - 7:43 AM - by AutoGuide.com



Quote:

The 2017 Ford F-Series Super Duty has been introduced as the toughest, smartest, most capable Super Duty truck lineup ever.

Like the 2015 Ford F-150, the new F-Series Super Duty has turned to an aluminum body to help shed up to 350 pounds on the heavy-duty truck. It marks the first time that the Super Duty body uses military-grade aluminum alloy, which Ford claims is more dent- and ding-resistant than the outgoing steel body and is not subject to red rust corrosion.

The fully boxed frame consists of more than 95-percent high-strength steel, making it up to 24 times stiffer than the previous frame, enabling the most towing and hauling capacity ever delivered by Super Duty.

Ford also highlighted the 16 segment-first new features that help towing easier and more efficient than ever. Some of those features include all-new advanced coaching and camera technology, LED lighting and adaptive cruise control. As many as seven cameras help drivers see more angles and monitor conditions around the truck, while a center high-mounted stop lamp camera gives visibility into the cargo box. There is also a 360-degree camera system that uses four digital, high-definition cameras for a birdís-eye view surrounding the truck.

Other firsts for the F-Series Super Duty include a factory-available trailer camera that can be attached to a trailer for enhanced visibility while backing up.

... [Read More]
2 Replies | 537 Views
» Recent Threads

Rating

Title, Username, & Date
Last Post
Replies
Views
2000 excursion fuel...

Today

04:44 PM

by

hoytjr

4

62

7.3 cams

Today

04:40 PM

by

Joe0816

1

314

What did you do to your...

Today

04:39 PM

by

maddawg89

15,936

847,918

NUC bypass system...

Today

04:39 PM

by

Arctic Fox

5

67

Let's talk water meth

Today

04:36 PM

by

strokin6L

57

2,400

What did you do to your...

Today

04:35 PM

by

Scooter99

37,973

1,734,655

'03 Excursion, Crank-No...

Today

04:34 PM

by

maddawg89

58

641

6.0 hpop?

Today

04:32 PM

by

Joe0816

14

819

wheel dilemma

Today

04:31 PM

by

01redcrew

1

74

SPOOL VALVE STICTION...

Today

04:31 PM

by

Scooter99

66

18,330

Oil Leak

Today

04:29 PM

by

Joe0816

24

2,624

IPR EGR DELETE REVIEWS

Today

04:28 PM

by

323flint

5

31

Someone needs to help...

Today

04:23 PM

by

Horizon122

0

1

What are you drinking...

Today

04:22 PM

by

sagebel

2,387

52,569

Cooling EGTs

Today

04:21 PM

by

Joe0816

22

1,850

Waste Gate Duty Cycle 0%...

Today

04:20 PM

by

madpogue

5

76

Really want to get a...

Today

04:10 PM

by

dieselburner21

16

287

CEL w/ DTC P06EA

Today

04:06 PM

by

mwe_060

5

1,186

Carli vs Icon Leveling

Today

04:01 PM

by

txbonds

7

154

pain (6.7 turbo removal...

Today

04:00 PM

by

gone6.0

2

15
» Stats
Members: 184,193
Threads: 366,588
Posts: 4,493,387
Top Poster: Dave (31,754)

Welcome to our newest member, TRMIN8R
» Online Users: 1,532
151 members and 1,381 guests
01Crewcab7.3, 01redcrew, 05f250harley, 086.4xcab, 1BigStroke, 323flint, 6LitersofFear, 7.3PSDMN, 73sduty, 82racin, 897.3alltheway!, 98 Saleen Cobra, 98SurplusExpy, ablank, Arctic Fox, ArkansasStroker, ars5147, athyen, Beastmode, bigbadford81, BIGGDADDYT, bigmic, booshski, boss34ford, Brew_WY, Bryce18, buckjb, Buckscent, bunnycop, casper4203, centerfitt, ChrisSki, cj1026, clbriz92, cletusjermal, Clomax, CoalRoller1991, crankn101, dantry, davespark, dbd, DENALI, Diesel808, dieselburner21, dieselcrawler, Don da Roza, dr.deere, Dwood, edoquinn, Eric, F350R, FamExc, farmer8, FIXEMUP, Ford_Fan1, Gaius, Georgia6Oh, gmercer308, Gordo1384, gotta_gofast, greasyF250, HanksFord, Heathrm, Heavy_GD, Horizon122, HOUTX01X, hoytjr, j.mo, Jake Swint, jdhallissey, JD_MILLS, jimmyv13, jms311, joe sinacola, Joe0816, john767, Jointasset, joshwatts2011@gmail.com, jrshelton13, junior125, kafleming19, kev789, Kkoon, klotzfitz, Lipka101, lmveney, LSSBoy, maddawg89, madpogue, Martin313, mattdoxa, mfdengineer, mfire23doc, mfr63, mhelm, michaelite, mike01844, MIKED1FORD, mossyoak, Msmitty, mwe_060, mzwizanski, nacman, nighthawk285, oliver00, PDX:6.7, poisonedbrew, Powerstroke7.31999, powerstrokecrzy, powerstrokemike, powerstrokeshellback, Pro fuzz, Qholic, Quint, Racerwannabe, Rivan, RJC2, Rl14776, RollinEarly99, rook247, rsater1, rudybilt, sagebel, SargentoPistola, schlutzer, Scooter99, sd2ca, smcox1, Snowboarder7710, sola, starcommtrey1, strokin6L, tazk123, Timberwolf2015, TRMIN8R, tsuggs, TurboMustang370, twhartman, Twinjracing, txbonds, Tylerb, um4life, UserError, wellcraft, welove2drive, wildbillcody97, Will335i, woodchuck, Yannerhammer, yelnats
Most users ever online was 5,452, 08-08-2015 at 12:47 PM.