» Buyers Guide
» Network Links
AutoGuide.com Holiday Giveaway
Dec 10, 2014 - 10:08 AM - by AutoGuide.com







Quote:

It's been a spectacular year for everyone at AutoGuide.com and none of it would be possible were it not for you, our readers.

As a small token of our appreciation, we're happy to say that we will be giving away three prizes on Friday, December 19 and entering the drawing couldn't be easier...

Read more about the AutoGuide.com Holiday Giveaway at AutoGuide.com.
0 Replies | 110 Views
Nov. 2014 ROTM winner
Dec 01, 2014 - 6:13 PM - by Rattlesnake18
Congrats to luke7.3 for winning the November ROTM contest!!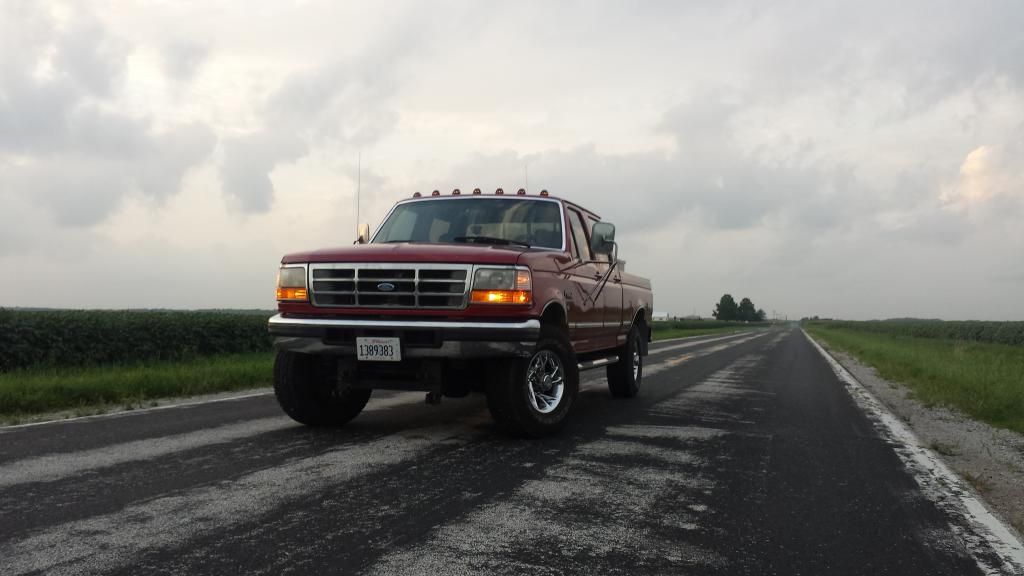 6 Replies | 397 Views
AutoGuide.com 2015 Truck of the Year: Part 1 of 2
Dec 01, 2014 - 5:28 PM - by AutoGuide.com




Quote:

There was a time when pickup trucks weren't expected to do anything but backbreaking work. Some people think of those as "the good old days," but I respectfully disagree.

Modern trucks are comfortable, luxurious and about as easy to drive a large crossover. It seems that families now depend on trucks as much as contractors do. Yes, these tools of the road have adapted to meet new needs and that leaves us with a particularly tricky task: deciding which one is the best of the bunch.

For the 2015 AutoGuide.com Truck of the Year, we gathered four new or significantly updated pickup trucks that hit the market in 2014. This ended up boiling down to one truck from each segment. We tested the midsize 2015 GMC Canyon, the half-ton 2015 Ford F-150, the three-quarter ton 2014 Ram 2500 Power Wagon and the one-ton 2015 GMC Sierra 3500 Denali.

... [Read More]
0 Replies | 487 Views
» Recent Threads

Rating

Title, Username, & Date
Last Post
Replies
Views
What have you Learned...

Today

08:08 AM

by

Ontario Trucker

2,336

349,039

1999 CCSB 4x4 key start...

Today

08:07 AM

by

sbluke55

2

75

Upgrade to 6.7?

Today

08:06 AM

by

G8orFord

39

1,524

Duratracs vs Toyo Open...

Today

08:06 AM

by

NEWT92

10

224

2003 F250 5.4...

Today

08:02 AM

by

Taftboy

5

444

Fresh Meat

Today

08:01 AM

by

TMCCOY

0

1

HPOP oil reservoir -...

Today

08:01 AM

by

Patrick Feeley

3

29

Leveling a 2001

Today

08:01 AM

by

tjbradney

0

1

All RWD (4x2) owners...

Today

07:58 AM

by

Bawshogg

3

51

15 owners, get ready for...

Today

07:57 AM

by

RJC2

74

7,829

2005 automatic...

Today

07:57 AM

by

Taftboy

0

1

New Wobble, new tires

Today

07:50 AM

by

csdwarf11

9

137

Torque pro app question

Today

07:50 AM

by

SuchTrk

3

83

calculating the rolling...

Today

07:47 AM

by

sledfreak

2

30

White smoke when...

Today

07:43 AM

by

Deerhunter4

2

27

The ODB2 port not...

Today

07:41 AM

by

sbluke55

1

18

Tuning answers and...

Today

07:41 AM

by

Harrington Diesel

120

14,544

FIMC Tuning Questioms

Today

07:39 AM

by

Heavy_GD

3

83

My DIY "stage 2" turbo...

Today

07:39 AM

by

robertc68

65

5,093

What did you do to your...

Today

07:36 AM

by

Montstroke

11,651

561,836
» Stats
Members: 176,261
Threads: 348,473
Posts: 4,270,740
Top Poster: Dave (31,342)

Welcome to our newest member, Bowhunter1431
» Online Users: 1,436
243 members and 1,193 guests
$howtime, 01redcrew, 06sduty, 0760rmu927, 08forddr, 09powerstrokee, 09SDLariat, 1Dieselman, 3054tony, 6.0L Stroker, 6.0newb!, 6.4stroker08, 6pointOHHH, 7.3Brandon, 7.3PSDMN, 73rvhauler, 73sduty, 99powerstroke62, A-310, acelefty, acjet88, ahycner, AirborneJordan, alohabrewer, Area81Racing, ATVJOE, atvrider93, azzuki, barrefordman, Batt5, Bawshogg, belz, BigBlue99999, Big_Smokey, Bizzerk, Bjesse, blwnsmoke, bmoore1488, Bowhunter1431, Brown45, btj254, butcept, c dog, caleb205, campbellflage, carlatvr, casper4203, ckrueg, clennep, Code3F250, coryfrancis11, CoUnTrY BoY TDT, cRaZy8, csdwarf11, Curtisg14, Dantron, dave75d, Deereman39, Deerhunter4, dennis93mustang, dhall2276, dhanna6powerstroke, diesel212, dieselcrawler, dieseljohn401, djs96, doc4car, Dorow, dowmace, Drew C, DrewGerhan, Early99SuperDuty, els-, erics diesel, Evil Eye, f350plow, Fabbed5.0, fiend138, FIXEMUP, flyers75, forddrw, forge1992, G8orFord, geardriven, gmercer308, golfpineacres, good2eat, graysmurf, greenwhite1, Harrington Diesel, HBandy, Heathrm, Heavy_GD, hoogie, HOYBOY, I B STROKEN '10, IamMonsterMan, j.mo, jab108, jake1, Jake_Smith, Jason G70, Jax50, Jay06f250, jbschlachta, jcarter2109, jig42na, jimmy21480, jjmcd, Jomax, jsbowlin, junior125, Justin M, JustinIDFarmboy, juzatheman, jvandehe, Karl65, kev789, kevinj1, kingranch15, lcgoatboy, lengelhardt, Lilz9286, livinlots26, llsomedumbguy, LSSBoy, Lubbockguy1979, MACH173, maddawg89, Malakas, marcmontreuil, MartyG, mattdoxa, Matty8734, Maxxforce365, MDdiesel, mderrickson216, MDRhoads360587, mfire23doc, mhatlen, MidwestDieselTrucks.net, mike01844, Mike123, mkmiec1, Montstroke, msizemore3, mtbound, MtHigh250, MurderedStroker, mySIXOisSick, nacman, Nazdreg, nelsonar, NEWT92, nighthawk285, NoRalPh, onealmx11, Onefaststang, Ontario Trucker, Patrick Feeley, PCL, pete3799, Phillipjon, plumberluke, poorboy1964, powernewbie, Powerstrokeguru, Powerstroke_21, proudfordowner, PSDTV21, pstrokeo1, PyroTekRob, Rattlesnake18, redneckbl89, Redneckredbird, rickland83, RJC2, rlebar, Rmassey, Roadwelder, robertc68, rossmelvin, rr06psd, ryan_lee, sagebel, Sakojake, samgoto96, sandpiperx1, sbluke55, scagle1, screech, sealeveloc, Serial Fordicator, setxduckhunter, sgall914, shaggy99, shiz big red, silverstroke2011, six_ohAggie, Slimline, SMS600, smuesse, StangXB12RSD, stevestoffer, Stokt, StoneRhino, streetroad, stroke my d...iesel, strokinpower, SuchTrk, superdog404, Taftboy, terryknight, texaslimeaide, The Next Level, the06wildebeast, thebierguy, Tim1216, tjbradney, TMCCOY, toren302, Tow51Stang, Towerguy, tpndrcn, tryan08, TurboMustang370, TwinTur8os, tygraven, unseen, UserError, vanandeltim2000, Verndog, welove2drive, Western Traveler, WHEELER3129, wikdslo, wingfooted, woodchuck, woody334, wyldemannn, zac93218
Most users ever online was 4,050, 05-31-2014 at 04:44 PM.