» Buyers Guide
» Network Links
Nov 13 ROTM Winner
Dec 02, 2013 - 7:57 AM - by PGreenSVT
Congrats usnavyad for your Nov. 2013 ROTM win!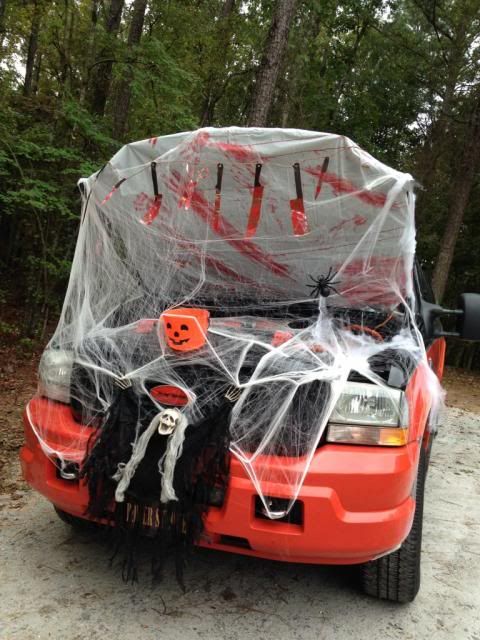 1 Reply | 357 Views
Click here for INCREDIBLE Cyber Monday deals from Banks!
Dec 02, 2013 - 4:52 AM - by Administrator
0 Replies | 192 Views
Gale Banks Question and Answer
Nov 12, 2013 - 8:33 AM - by Administrator

Hi everyone,

I'm extremely pleased to announce that AutoGuide.com has partnered up with Gale Banks from Banks Power for a question and answer session on Cumminsforum.com.

This Q&A will be open to all Diesel Truck makes and Models, so its not just about the Cummins. If you are a Powerstroke or a Duramax enthusiast you are just as welcome to sign up and participate also.

The Q&A thread will be open until the 22nd of November. After that the thread will close and Gale himself will be selecting the questions he can best answer. He will log on over the next few days and answer as many questions as possible. So please make sure you are asking the best questions you can, its not everyday we get to ask one of the best Diesel experts in the world for his opinion and insight!

This is a rare opportunity so I'm looking forward to seeing some of the questions you guys can come up with!

So get onto cumminsforum.com by clicking on the picture above, then register to participate!
0 Replies | 978 Views
» Recent Threads

Rating

Title, Username, & Date
Last Post
Replies
Views
Post something about the...

Today

07:16 AM

by

6.0f250firstcar

5,266

61,514

Smoke Question

Today

07:10 AM

by

ZMANN

4

35

Need help pickin a...

Today

07:10 AM

by

Tim1216

7

241

OBS Mods Show Off

Today

07:06 AM

by

kanuck15

7,405

944,185

hi from the mountains of...

Today

07:02 AM

by

chrisboodle

13

108

Inspection.

Today

07:01 AM

by

dazed01

6

91

Prada spec x

Today

06:59 AM

by

Dallasmn26

0

1

Pulling engine, will it...

Today

06:55 AM

by

dazed01

7

128

3.73 or 4.30?

Today

06:55 AM

by

dannanw

19

440

OBS chat

Today

06:55 AM

by

PSDTV21

101,350

2,436,054

HELP! 7 Codes and NO...

Today

06:55 AM

by

rick1067

13

240

Weird noice coming from...

Today

06:54 AM

by

TwinTurbo6.4

4

69

New purchase 6.0, 04 f250

Today

06:53 AM

by

budlight321

2

28

What have you Learned...

Today

06:51 AM

by

texaslimeaide

931

151,669

CSP Truck Talk

Today

06:51 AM

by

dannanw

3,344

54,451

I got JACKED! (Tailgate)

Today

06:51 AM

by

dfuzz78

15

1,363

I Need more top end power

Today

06:49 AM

by

Joe0816

14

392

HOTTEST WOMEN

Today

06:48 AM

by

spur of the Moment

4,958

774,501

CCR Chat Thread

Today

06:47 AM

by

dfuzz78

50,482

721,694

Worried about dealer...

Today

06:45 AM

by

p8ntballn2

3

51
» Stats
Members: 163,047
Threads: 315,393
Posts: 3,865,850
Top Poster: Dave (29,634)

Welcome to our newest member, jlegrand
» Online Users: 2,246
611 members and 1,635 guests
$howtime, '04STROKE, 01powestroke, 0273powerstroke, 02_Stroke, 03SilverEx6.0, 04dieselduty, 05krsd, 06psd6.0, 07stroker, 0864stroker, 08forddr, 08SuperDiesel, 09pstrokeUSMC, 11eco, 1BADTON, 1Dieselman, 33yrmz, 3dram8, 4realestate, 5fifty, 6.0f250firstcar, 6.0L Stroker, 6.0_n00b, 6.4stroker08, 6literbeast, 6pointOHHH, 7.3workacholic, 7.5stroker, 73guy, 95redrifle, 97-5spd-powerstroke, 97bluepowerstroke, 97dmpr, 97Strokin', 97_Stroked, 98 Saleen Cobra, a2elvis, A92notchback, aaklingler, abelopez12, acydzik, adennis41, ADP63, ahard1, AhrmanHammer, AllianceDiesel, alwil, AmatuerHour, amb82, amsoil929, and.decarlo, ande6009, anschutz1913, ArcFlash08, Aretoo, ARivest0347, artiecourville, Atem2144, atgarner, athyen, AU7POINT3, B.Reilly01, B585Ford, backhoebill, bakerc167, ballofsoot, bamfdavid, BB540C2, BBRCVP, Beeman3, begotiger, bhutzel, bieryjake, BigBuck41, BIGGDADDYT, BigMuddy97, bigstroke38, birdco85, BlackBy4, Blaster7Romeo, BlazerOutback Powerstroke, Blowin'_Smoke, blowinsmoke4life, Blueboy, bmw5017, Boozer76, bouboy02, BR'sCrewCab, Brettt, brian86992, broncomitch, brookshirej2, Brooksy, brscott38, bruejones1@gmail.com, Bsmith05, btj254, btr2bstrokin, bubmiller, BucOff, BUD11HR, budlight321, C2d2013, CAdiesel, caissiel, callsignsleepy, cantrun10s, capcalvin, carlatvr, cba214, cbarm, cbell11, CELAYORK, centerfitt, cerisecons, Chadly329, chasemonsrud612, Chatham036, cherrysweet, chopperchip, chrcaldwell, chris-rector, chrisboodle, chrisv_10, Chubcs, Chudson503, chuy_818, cjhofer, ckrueg, clatterindiesel, clennep, cletusjermal, Clomax, CloverLeafFarm, CNYWhiteDually, Code3F250, codyryan07, Colby, coot1, Copperhead, Coreyroberts, country41, Crawler374, Crystal&Mike, cscrb8, CT Performance, Inc., cv17, Dallasmn26, damnitbud84, dannanw, dante81_98, DanTech_Offroad, dantry, dave75d, dazed01, DBM, dbrandone, dcaddy, deanc24, Devildog John, dewmonsterous, dfuzz78, diesel23, dieselcrawler, DieselFab67, Dieselfreak12, DieselTech7.3, DillonC, DIMBLEWAMBIE, diode_ee, doe12, donalfila, Doohboy24, dowmace, doyle95, draaronr, dragon_tacos, drz400smoto, dt23400, Ducks_and_Diesel, dwmlr, eagle92, early 99 pwrstroke, eastcoaststroker, EasyStrokin, edaw, Eddge, Eds69s, EK!, elvaktran, Engine 71, eurotrashb5, ex2000, f250towrig, F350Black, factoryflood, farmer8, fast_gto, fibersplicer, firemedic5586, FIRST_TIME_DIESEL, flipp29, Flit-e, ford4life76, fordboy5011, forddrw, fordman1988, fordmanidi, fordtrux, Ford_Iowa_Boy_7.3, Forgasmic, forge1992, forkliftman, forttravis, Foxracerrb, fstasvr4, Fummins90, g-pippitt, gadawgz71, Gaius, gator7897, gbeden, geardriven, Gearhead2012, geauxcats10, Gefell, gfaststroker, ghostang93, glcrider, glraz, gman1975, gmat, gmercer308, Gordo1384, got flx, gparrow, granite state destroyer, graysmurf, greenwhite1, gregg81, GulfcoastStroker, Gus_hauler, gzartman, H10F250, hansel, harpoon, hartmanb, Hauser, HBandy, hdfattboy2001, hdwindjammer, Heavy_GD, HerbTx, Hilbily, hill392, hmdavid, hotairgypsy, houtxf350, howell_jd, HOYBOY, HRFD438, hucorey, Huntersk2k5, hw713713, i98beast, icsportinggoods, iLoveSoccrMoms15, importedaze300, INJEKTER1, Intelocalypse, I_AM_RP3, i_gibson13, Jack Lester, jake1, jakejmnz, Jamac85, jaragon01, Jarods gerbils, Jay1823, JAYINH, ja_cain, jbschlachta, jb_sexton, jcabe1, jd1087, jdeeg4276, JD_MILLS, jeffro22, jerseyben, Jerzyperson, Jetpilot2112, jetskier, JettBlack, JGman141, jimmy21480, jimmysbd, jjmcd, jmpratt, Jnixon, Joe0816, JOEDOG223, john7fox, johndeeregarner, johnstang66, jrshelton13, jscholly, jse51599, ju015dd, JusFaulk, Just1MoreTime, Justin M, juzatheman, jvandehe, jwr1527, kafleming19, kanuck15, kcchief434, keith12088, kevinj1, kinnisoj, Kirk250, Koda22, kodeman, kraker829, KRF250, krppscott, ksgries, KS_, ktmracer358, KyleCrashCain, lcimino1967, Leftyroc1, Lilfarmrboy, Lilpooh, Lilz9286, LOKAN6.0, LSSBoy, LTB Racing, luckyeod28, lugnut1009, lutts2011, lynyrdskynyrd95, M.F.E., M3xpress, machinestheman, Malakas, Manny's powerstroke, Marcov12F250, marshal.smith7, MartyG, masterninja2357, Mathes, Matticus, Matty8734, Mbar741028, mbweeks81, Mcamnl, Mcdiesel, Mdaugherty49, MDRhoads360587, Megatron11, Merc82, merkfalc, mfire23doc, MHCRRA16, midnite rider, MikesF350ps, Mikeski0890, MikeThompson, mischief, Mitch C, mkfan17, mo powerstroker, MO05SD, monsterstoker, mooseracer96, mossyoak, Moungo, mpj529, mppunzel, Mr Hahn, MrOneEyedBoh, msimpson619, msizemore3, mthompson, mtpolarbear, MuddyATV24, mulla711, MustangPuller, MustangSmitty, mustangteddy, mxz700, mySIXOisSick, mysticblu999, nacman, najaf4life, nebulus83, nelson1each, New Heights Roofing, nickw226, Night Crawler, nine6stroker, nine9six, nix5o, Njstroker91, NO4NCRP, nohsp4u, noplugs4me, NoRalPh, Northernl, northfed10, NOS67SS, Nub Dog, nwwheeler, NYC F-350, ochavez, OCVeloMan, offroad21, oldskool13, onealmx11, onefastrt, onemeansaleen, onomado, P7M8, p8ntballn2, padiesel73, Paul's Powerstroke, pete37922, PFig, pjm1, Pjosh6, pjzr1, PNW6.0, portcity_gt, Powerestroker2000rt, Powerlift34, PowerSTOKED_Bryan, PowerStrokeAvenger343, powerstrokingman, Power_Strokin, PressureDrop, preston77, PSDieselHog, PSDTV21, PyroTekRob, Quickerthanu, R/C flyer, Raano, rabpearson, RADIOFLYER, Raferty, Rammstein1224, randall687, Rattlesnake18, raycat, Rebel Horseman, red mistress, RedEagle, RedneckYankee, Redrock2000, REGSHD, Riccardi, Rick C, rick1067, RickyVaughn33, Riseinside1892, Roadstroker, robbyvanz, rocketman123, rocknmj, rohlohl, rolsmojave3, rontom, rr06psd, Runner777, rustyg23, RYanmas9, R_McCall, sack004, SAILOR97, saint gerald, samgoto96, Schooner622, seeemmiss, seth_thompson917, setxduckhunter, shabazz18, ShadowKev, shiz big red, SHPW604A, Silverbullet 6.0, SilverMustang35, silverstroke2011, simplewell, sincity_duck, skinnysfd, slandry786, slayer7712, Slickdawg, SlimJim SC, smethers, SMS600, snafu!, snapmech, Sno-Mow, Snowman269, snox700, Solo25, southernboy333, SpDyDaVe, spur of the Moment, SSonnier, Stanley F350, starcommtrey1, Steinbrenner, stephenp95, stereodesigner, Steveo2001F250, stjoetalon, StoneRhino, stroker0920, StrokiNDieseL, stroking666, studentdriver, Stumppy, sugelle, Superduty6.7, Superford64, supreme oppressor, SySx, tanman_2006, tartfun, Tcm5080, Tdc130h2, Tdubalicious, Teachagmech, texaslimeaide, tferrellsn95, TGauger, ThcGunSmoke, The Internet, The Next Level, thebierguy, TheMaineMan, thepowester, thewrubelator, thomas5853, Tim C, Tim1216, top_prop, toren302, tpndrcn, Trfytow, Trigger01, Truckmaniac, Tugs, tunafish25, Turbo231, Tuscany, twbhd04, Tweez, twiggly2, TwinTurbo6.4, TXBrewer, tylerw13, Ubet, ultimatemotorsports, underaltec, Upside, USAF-FD-NJ, UserError, USMC2000250, usnavyad, usramc, vandy, ventryjr, verifine, Verndog, VolsFan1nGA, wags1992, wakeboarder2186, war03j, WarChild, Waterfowler, weareweird69, Wed Turner, weekendplayer, WHAT HAPPENED, white00strokerks, whiteout94, Whiteside, Wicked6.0, WikedLizard, wildbillcody97, wilsonw2, wizlams08, WoodBoy, woodchuck, woody334, xmontex4, XWindWarrior, yamaSauRX, Yessir, zaksimmons, zaxbig6.4, zeropistons, zgbishop, ZMANN
Most users ever online was 3,055, 12-03-2013 at 06:23 PM.