» Buyers Guide
» Network Links
Why Won't My Car Start?
May 05, 2015 - 10:08 AM - by AutoGuide.com



Quote:

Without a doubt, every owner dreads the moment when their car won't start. What should you do? Who should you call? Can you fix it yourself? Here's a list with ten common reasons why cars don't start up and what you can do about it.

'The first step is to define the no start' said Joe Spadafora, certified instructor at Universal Technical Institute's Exton, Pennsylvania campus. Spadafora spent the majority of his career in working in the service department of several dealerships and receiving factory training from GM. He's certified as a Master Technician and certified by Chrysler as a Dodge Viper technician . He also holds certifications from Subaru, Suzuki, Toyota, Lexus and Scion as well, so if there's something wrong with your car, chances are he's seen it before.

To diagnose the reason your car isn't starting, you need to pay attention to happening when you turn the key. 'Does the engine crank but not actually start or, when you turn the key, does literally nothing happen?' he said. 'In a customer's eyes, the following two options are the same because both create a scenario that results in the vehicle's failure to run.'

While the two situations might seem similar, they have very different meanings that are important to a mechanic and can signal different problems calling for a variety of solutions.

'It's important to note that a vehicle is an extremely complicated machine and can exhibit similar symptoms for a variety of reasons,' he said. 'That is why it's important to first

... [Read More]
3 Replies | 525 Views
April 2015 ROTM winner
May 01, 2015 - 5:32 PM - by Rattlesnake18
Congrats to StarDriver for winning the April 2015 ROTM contest!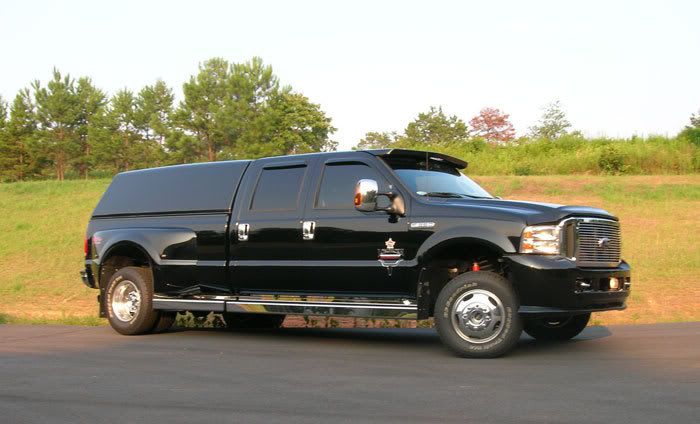 3 Replies | 460 Views
March 2015 ROTM winner
Apr 26, 2015 - 12:37 PM - by Rattlesnake18
Congrats to Tuscany for winning the March 2015 ROTM contest!


15 Replies | 512 Views
» Recent Threads

Rating

Title, Username, & Date
Last Post
Replies
Views
6.7 L PUMP INSTALL...

Today

04:49 PM

by

junior125

116

19,251

What did you do to your...

Today

04:47 PM

by

junior125

33,428

1,508,995

CCR Chat Thread

Today

04:46 PM

by

Six0~Stroker

88,943

2,265,413

Im ready to do some...

Today

04:41 PM

by

Derwood

9

118

6.4L What gauges do i...

Today

04:38 PM

by

TRILLS

2

54

2000 7.3 no start

Today

04:35 PM

by

Sra1157

9

131

LOW BOOST?

Today

04:32 PM

by

Jason99

8

24

Parts list please

Today

04:31 PM

by

unclemark

5

56

H&S pyro

Today

04:28 PM

by

Powerstroke620

0

1

Opinions needed

Today

04:19 PM

by

Mike's Lariat

6

80

Please help quick...

Today

04:08 PM

by

Jason99

1

20

Power steering...

Today

04:06 PM

by

AlaskanEngineer

0

1

zf5 Cracked Bellhousing

Today

04:06 PM

by

DieselLuvr

6

51

Post something about the...

Today

04:05 PM

by

Teachagmech

9,971

178,789

Here we go!!!!

Today

04:00 PM

by

unclemark

6

98

Uneven Tred Wear?

Today

03:57 PM

by

TRILLS

0

1

Offroad Poker Trail Run...

Today

03:55 PM

by

m3dragon

1

216

You know you own a 6.0...

Today

03:54 PM

by

bowmanjoel23

156

12,926

Need help on pyrometer

Today

03:50 PM

by

hondaracer315

2

36

6.0L Head Gasket...

Today

03:47 PM

by

Rattlesnake18

17

322
» Stats
Members: 180,956
Threads: 359,132
Posts: 4,408,034
Top Poster: Dave (31,670)

Welcome to our newest member, Charles foresyth
» Online Users: 1,617
166 members and 1,451 guests
$howtime, 05f250harley, 06-F350, 06amarillofl, 08forddr, 2005F4506L, 2kStrokr, 323flint, 6.0Beast, 6.0LDually, 62alf, 7.3LDriver, 7.3PSDMN, 760jimmy, 95redrifle, adman02, AirborneJordan, AK250, AllianceDiesel, alwil, andys08, BaaronVonCarey, Baileysbees, barrefordman, BEECHFRONT609, BigBlue99999, bigmic, bigric, bigstroke38, bikesandcars, black06stroke, black_sheep, BM_06F250, Bones02lariat, bowmanjoel23, bross97, Buckeye0913, caleb205, casper4203, chpprguy, chris1106, Code3F250, codycat91, corey5988, cowens677, Crawl78, darkpassenger, deanofay, DeanRyan, Deathrod, dennis93mustang, Derwood, DieselLuvr, dt23400, Dwood, Elkhounds, Eric, ETuck, farmer8, firestick, five0merc, FIXEMUP, forge1992, fortbliss2, G8orFord, gaanewman, grassmaster, Green Panther, greenskeeper, GTO Slayer, Heathrm, hoogie, HOYBOY, icsportinggoods, ilovemy7.3, island8, j.mo, JaCobra, jake1, Jason99, JasonM1234, JD_MILLS, JesseKK, jetjock15, Jon B., jse51599, junior125, Justin M, jvanwalsen, jwheatley20, kafleming19, Krug, l8nitesurfer, Lilpooh, LSSBoy, lugnut1009, magnetic2fitty, MartyG, mattdoxa, Mcamnl, mgilbert15, Mike's Lariat, Moepowerstroker, mossyoak, MountainWays, MSTR-P, mysticblu999, N8perez, nacman, nighthawk285, nrryan888, onealmx11, Powerman8411, powerstroke popo, Powerstroke620, powerstrokecrzy, PowerStrokedRedneck, powerstrokemike, PowerStrokenMama, PSDTV21, RJC2, rlewis2, rocknmj, Ron Morgan, sagebel, saranay, seahawksax, sealeveloc, Shim, shiz big red, Six0~Stroker, sledhead_21, sleepy steve, Slimline, sniper05, sola, SOLDIER1119, sportsdad, Sra1157, StoneRhino, str$ke-it, superduty4wd, tazk123, thebierguy, thedon7.3, Tjmaxx, TL2324, toren302, tpndrcn, trailer, TRILLS, tryan08, tstodd22, TulsaGrizz, turftamer, twiztid1981, txbonds, TxFireman1972, TxRaider, unclemark, UserError, vinrock, wharrell, woody334, Yerkie, Zfd22AJ
Most users ever online was 4,050, 05-31-2014 at 03:44 PM.